today's six words
today wasn't enough for my censor
We left our apartment and made our way on foot to the Latin Quarter -- the Bohemian center of the city -- right in the shadow of Notre Dame.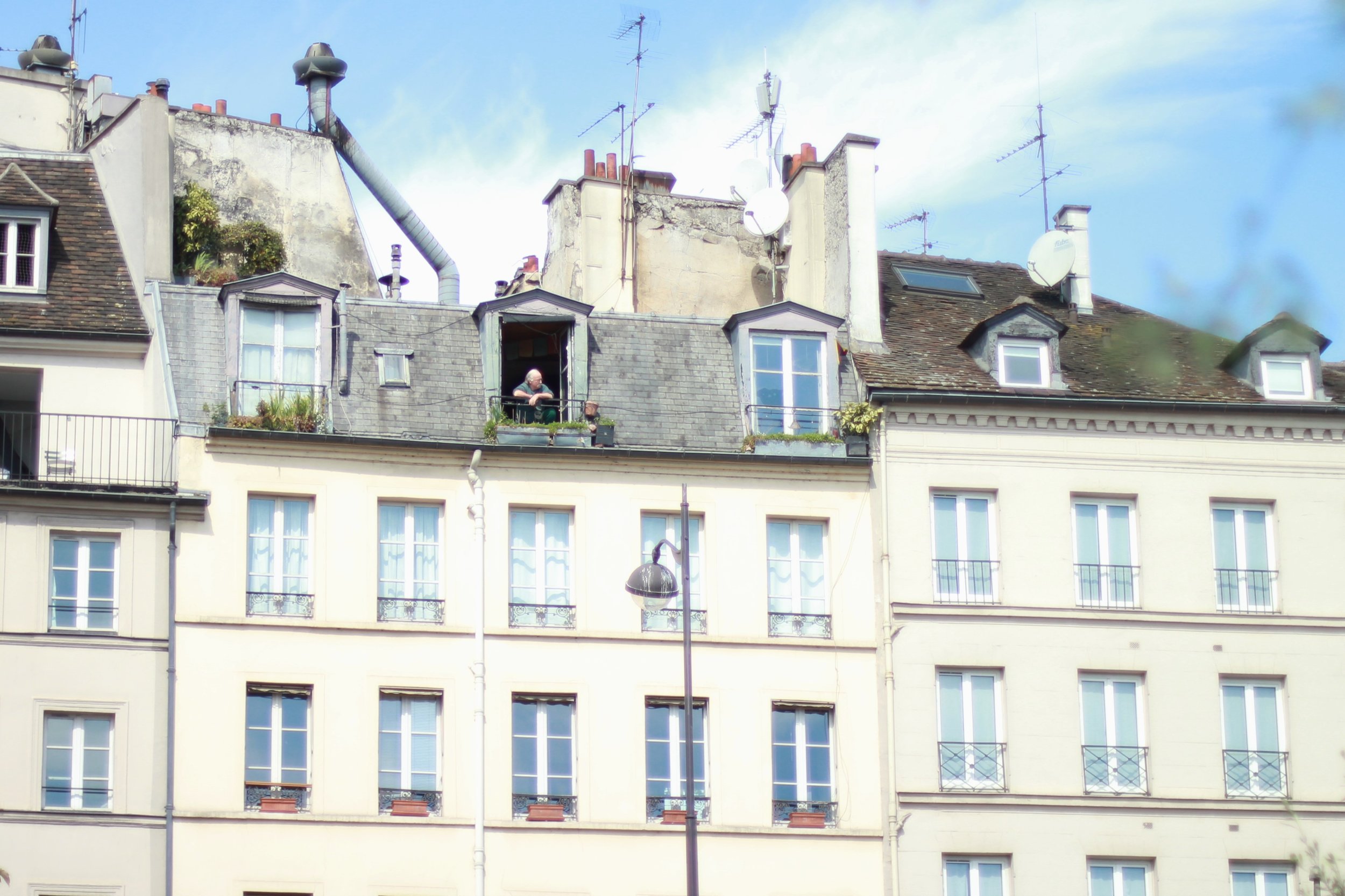 A lazy Sunday buzz filled the cafes and the few groups of people loosely meandered through the streets. With so many corners and ally ways to explore, it was easy to feel as if the place was all ours.
I hadn't heard so many people openly speaking English as I did there in the shadow of Shakespeare and Company. The aura of English and American artists must haunt the place. Most tourists speak English here in either hushed, embarrassed tones or brash, overwrought ones.
Dodging out of that crowd, we slipped straight into a small shaded garden with Notre Dame presiding over us. Welcoming the pebbled walkways and leaf-dappled shade as the perfect retreat after all of the hard cobblestones and heavy light, we sat a moment in silence soaking in the green light and ancient stonework.
Back out on the street in search of a grocery for picnic supplies, I stumbled through a flee market, fascinated by all of the things I would bring home if I had the space...a collection of natural sponges, perhaps a pipe or two, and definitely a tattered map or two. And of course plants. Because it's hard to have too many plants.
After grabbing a quick picnic at a nearby grocery, we found a bench in Le Jardin du Luxembourg. Munching on sandwiches and a bar of chocolat noir aux amandes entières (dark chocolate with almonds) that I grabbed at the last minute, we watched everyone get kicked off the grass as the pigeons fought over half a croissant.
After lunch roommate headed back up to our apartment to get some work done in the quiet of an empty apartment. I set off into the gardens and circled the perimeter, watching the children run around the lake determined to keep their boats from hitting the sides. The breeze shifted and I smelled the nostalgic scent of horses. Moments later a line of tiny ponies marched past with even tinier children atop them, some of them giving anxious calls to those leading their mounts. I counted three languages declaring "help!" and "oh no!" all sounding much the same in timber and tone.
Circling back around to where I began, I hopped on a Velib bike and returned to the Seine. With no particular plan, I simply headed off along the edge of the river in the direction of the Eiffel.
Finally toodling back, I found myself in the middle of Place de la Concorde which might seem glamorous from a car with the Seine close by and the great wheel dominating the view and the Fontaine des Mers below. And it is still beautiful on a bike but, when one is peddling for one's life, navigating cobblestones that have been settling in odd places for literally centuries, and which have absolutely no lane markings whatsoever, you feel very very small and not at all glamorous as you bump and pray your way in the direction that you hope you should be going.
As the air grew cooler and the clouds became darker, I traded bikes and headed back up the hill at last.
Upon arriving, I took of my coat, wrapped up in a blanket, sat by the window, and proceeded to have an emotional breakdown where my head told my heart that I had done absolutely nothing of use today. "What...no paintings? No beautifully written words? Nothing at all to show for all of this that you got to receive?" My hands and toes went cold. I moved to the bathroom and stood under the fan heater for a while. Still. "Nothing to show for it?!" I returned to the chair and stared out the window, trying not to think about how I should paint the brick column outside, revealed under the cracking cream plaster. Or the wood siding that somehow looked even more beautiful with half of it rotted away.
It just goes to show that days filled to bursting with creating art and exploring new haunts can't protect you from self-loathing. Taking that trip could be what you need to jog you out of a bad stretch, but remember...you'll be taking you along with your luggage, camera, and paints.
Take the trip! but don't expect it to fix you. That's up to you, not Paris. But don't worry. I've got some ideas up my sleeve to try and fight the censor that so dearly loves to taunt us.
What do you do to combat the censor critic in your brain? Share with us on facebook. I know we'd all love some new, proven ideas.